Twyman Research Management Ltd offers a range of services relating to the development, management and presentation of scientific projects.
Our service loop includes help with the preparation of grant proposals to secure funding for scientific projects, project management tasks such as the preparation of project reports or project-related websites, and scientific writing services during the project such as help with the preparation of manuscripts for publication. We also offer lectures and workshops on scientific writing, grant proposals and project management.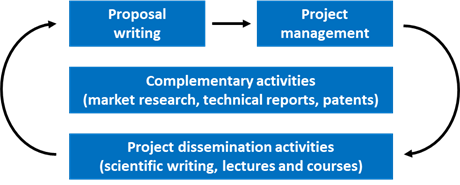 Within this service loop, we also offer a range of complementary activities to facilitate scientific projects, such as the preparation of technical reports, market analysis, patent applications, product literature, promotional materials, business plans and strategic development plans. We can also help to fulfill your project dissemination, exploitation and communication tasks.
More information about the services we offer can be found by choosing from the services menu at the top of the page. You can also contact us for more information by clicking the link below.